Indian Entrepreneurs Success Stories which means Indians who made their mark by proving their excellence in entrepreneurship by running a successful business. A successful business is not one that does not have the risk or which does not have the losses. Every business has risks and losses from time to time. A Business is successful when it is backed by a person who is able to endure a lot of risks and losses and turn them into opportunities to learn and grow in any particular industry.
Now, Industry experts are a different thing, and having a business sense is another. If you have a business sense, there are chances you will be able to run any kind of business given that you have experts who know the technicalities of the particular industry. Indians have a lot of potentials but few resources to learn and become the best version of themselves. If you have been thinking to start a business or are the owner of one, you can read this article and know about the real-life stories that are inspiring in the entrepreneurship world. Below is the list of Top Seven Inspiring Indian Entrepreneurs Sucess Stories that will Inspire You,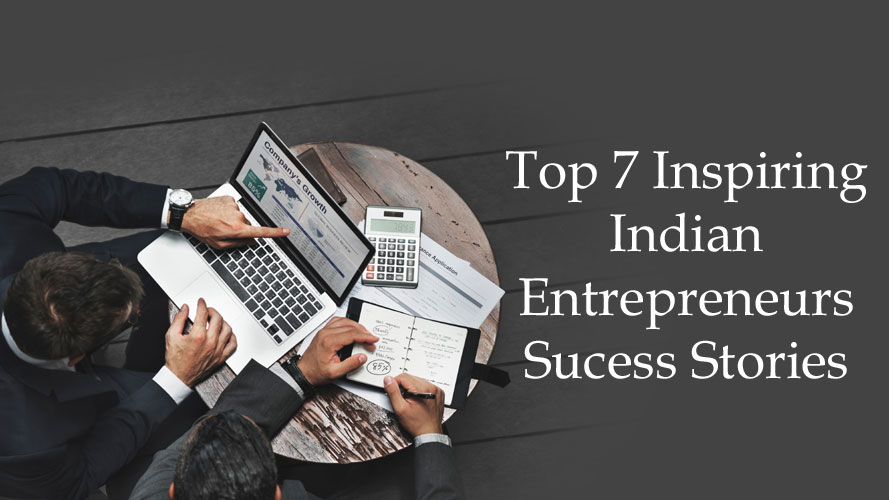 Deepinder Goyal
Upma Kapoor
Shradha Sharma
Nidhi yadav
Kanika Tekriwal
Malika Datt Sadani
Bhavish Aggarwal
1. Deepinder Goyal
Deepinder Goyal is the founder of the largest food delivery service in india, Zomato. He has graduated from IIT Delhi and has worked in the company named Bain and Company in New Delhi as a management consultant. Deepinder Goyal founded the company named foodiebay which now is known as zomato. Zomato was started as food reviewing website and soon it became the fastest and popular Food Delivery Service.
2. Upma Kapoor
Upma Kapoor is the founder of Teal and Terra, which is an organic cosmetic startup. This company is started to bring the change in the organic beauty industry. She decided to start an entrepreneurship journey in 2017 and this bootstrapped business has increased in revenue year on year gradually. Upma kapoor has been felicitated with "Priyadarshni Award" for outstanding woman entrepreneur in the year 2019.
3. Shradha Sharma
Shradha Sharma is the founder of the platform named YourSTory. This platform is sharing the stories of entrepreneurs to people. She was born in Bihar and got her education from patna and delhi. She has worked with CNSC and Times of India before launching the startup named Yourstory. She has made her mark by her storytelling skills and targeting right kind of people. Today, People like ratan tata have invested in her venture with a lot of conviction in her abilities and her business sense.
4. Nidhi Yadav
Nidhi Yadav, Who left her job as a software engineer when ahe was just 23 years old to follow her passion and she enrolled in one year course of fashion merchandising. She is the founder of AKS Clothing, which is a women's Wear Brand having turnover of Rs. 137 Crore. She started her business with just 3.5 Lakh at her 2BHK house in gurugram. She worked all alone for almost one and a half year in her business.
5. Kanika Tekriwal
Kanika Tekriwal was surviving the cancer when she was just of 24years old. She launched Jetsetgo as an aircraft aggregator in the year 2012. Sudheer Perla, who is a chartered accountant and an oxford management graduate joined the company as a cofounder in the year 2014.
6. Malika Datt Sadani
Malika Datt sadani is the founder of the company named, The Moms Co, which was started with the turnover of just Rs. 2 lakh. She has done engineering from pune and her MBA from welingkar institute of management. She launched the branch, the Moms Co in the year 2017.
7. Bhavish Aggarwal
Bhavish Aggarwal, who is the founder of OLA Cabs, is the IIT Bombay Alumni. He worked as a microsoft research team member for two years before starting his entrepreneurial journey. Bhavish was considerd the youngest person in Forbes' list of India's wealthiest individuals in the year 2015. In the year 2018, he was included in the list of Time's Magazine 100 Most Influential People. He was born in Ludhiana city, punjab. He has done B.Tech from IIT Bombay.
These seven entrepreneurs have made an impact in indian markets as well as internationally through their creative ideas and ruthless implementation. The List of Indian Entrepreneurs can go on an on but these are seven most popular entrepreneurs who are from India and have achieved heights through their business ideas and Intelligence